3
-min. read
Finally, there's a technology that could have tourists yearning for the wild more than ever before; the unfortunate paradox is that the very same technology could stop them ever setting foot there…
Drones might be the current buzzword in safari filmmaking, with travel operators sending them up in droves to capture that sun setting behind their lodge, or follow the Land Cruiser as it kicks up savannah dust; but as fantastic as aerial scenery is, the detachment of the viewer is palpable.
Instead, filmmakers are discovering the potential of 360-degree cameras to transport viewers right into the midst of the action – to feel it, experience it as if they were truly there. As 360-degree camera technology improves, the safari and conservation experience could be laid bare. This could be a step forward for conservation organisations and safari operators alike, but safari operators may need to consider what it could mean for their business.
On one hand, conservation organisations can benefit from the ability of 360-degree viewing to expose donors to the true situation on the ground and to move them emotionally. For example, my business partner and seasoned safari guide, Michael Lorentz, introduced me to a recent film that makes the most of the technology: 'The Protectors: Walk in the Rangers' Shoes'.
A Garamba National Park ranger from 'The Protectors: Walk in the Rangers' Shoes', photos by Ian Doss

Directed by two-time Oscar winner, Kathryn Bigelow, and virtual reality specialist Imraan Ismail, the film plunges viewers into the lives of Garamba National Park's rangers. This is a volatile region where poaching is rife and rangers are often killed by those poachers; thanks to 360-degree filming, the tension is palpable as the viewer joins a section of rangers on patrol. The grass is claustrophobically high. The armed ranger ahead of you is swallowed by it as he moves forwards. Swivel the screen and there's a ranger walking behind you, rifle at the ready. You are swept along with them: you have no choice, and although you can't change your course, you can explore every aspect of the changing scene. Then you hear gunfire and you swing the camera in that direction.
The power of this film is that it builds much more appreciation for the danger that these rangers face; the 360-degree view exposes the viewer to it more than ever before. It's not hard to imagine how the same appreciation could result from exposing a viewer to other aspects of conservation, such as wildlife capture and translocation.
This technology also gives safari operators the ability to deliver a far more visceral sense of the experiences they can offer guests – if they can afford it. The reality is that take up might be slow, partly because of the cost of aquiring the technology or paying professional filmmakers, but also because of the sensation a professionally filmed experience could deliver.
Financials aside, a 360-degree view from the safety of a vehicle looking over the backs of thousands of wildebeest could be wonderful, as would a camera on a walking safari where you would view wildlife from a distance. But the really sensational footage would be that which places the viewer in a position no sane human would put themselves in – such as at the edge of a waterhole, where lions are drinking just a whisker away, and by swiveling the scene you see a herd of trumpeting elephants descending on you as they chase the lions off.
Viewers can get up close with wildebeest and lion

It's not unusual for cameras to be placed in locations that take viewers close to wild animals; it's just that this new technology can give us the sensation that we are actually there – more so than any technology that has come before. So much so, in fact, that people may begin to question the point of going on a safari at all… In order to remind travellers of the transformational potential of going on a real-life safari, operators may need to rework their offerings in order that guests are far more involved in the wild, to make the experience is less about merely 'seeing' and more about 'feeling'.
As Michael took off to guide another safari, I asked him where he was going. When he mentioned Tarangire National Park I dropped the name of a camp I had stayed at, wondering if he and his guests were headed there. "No, we're staying up a tree", he said. "Nice! A star bed?", I asked. "No, no bed. We're just climbing up a tree and spending the night there." I think Michael's getting ahead of the technology.
---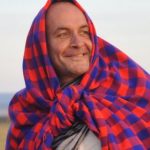 Previously a freelance journalist and editor of Africa Geographic, Anton Crone is CEO of Safarious, an online travel portal to the world's wild places. Anton not only focuses on wildlife, he also finds himself drawn to the people he meets on his travels. He looks at journalism as a way to connect people of differing creeds and cultures, and through his writing and photography he tries to uphold the importance of the communities that live side by side with wildlife.