4
-min. read
The world's first underwater cabinet meeting was held in 2009: a salty stage for the Maldives' government to broadcast the threat that rising oceans poses to their island nation.
Donning scuba gear, cabinet ministers sat at desks submerged under the Indian Ocean, where they signed waterproof documents calling on all countries to cut their carbon emissions.
"We are trying to send our message to let the world know what is happening and what will happen to the Maldives if climate change isn't checked", said then President, Mohammed Nasheed, after emerging from the water. "By 2100 most of the nation's islands could be under the ocean."
This compelling initiative to save the homeland of the Maldives' 350,000 inhabitants certainly sparked world interest; but progress in curtailing global emissions remains slow, despite the fact that the Maldives is not the only nation under threat. Worldwide, hundreds of thousands of island inhabitants face the loss of their homes – or worse, the loss of their countries.
In the Pacific Ocean, coastal inhabitants of Vanuatu in the Torres Islands have had to relocate to higher ground due to flooding. The Marshall Islands face the same threat, as does Kiribati, which could be underwater even sooner. This nation of 105,000 people could be overtaken by the ocean in as little as 50 years, according to Kiribati President Anote Tong at the UN Climate Change Conference in Paris last year. "With sea literally at the doorstep (or, as in many cases, in the lounge room), Kiribati are needing to think quickly about their immediate future", echoes Kiribati resident, Mei Marita.
The threat does not only affect island nations. Although often prone to disastrous coastal and delta flooding, climate change is said to have aggravated Bangladesh's situation, leaving scores dead and homeless and severely affecting the country's agricultural economy. The floods are now compounded by recent extreme weather conditions, which may bare a correlation with climate change.
The US city of Miami is taking measures to protect its residents from rising sea levels, including the installation of around 80 pump stations and the rebuilding of roads to make them higher. A University of Miami study found that Miami Beach flood events have significantly increased over the last decade, due to an acceleration of sea-level-rise in South Florida. "The average rate of sea-level-rise increased by six millimetres per year over the last decade – from three millimetres per year before 2006, to nine millimetres per year after 2006", says the study.
Whereas US cities may have the resources to protect citizens from rising sea levels, nations like Bangladesh, the Maldives and Kiribati do not. So drastic is the situation that these nations could be uninhabitable in our lifetime, if not completely underwater. Kiribati has purchased land in Fiji in anticipation of such a crisis, but even Fiji's coastal homes are routinely flooded at high tide.
Nations have vanished or been displaced before due to political upheaval, despite international intervention and often due to lack of it. We see it today with the Syrian refugee crisis; but the next wave of refugees could be those fleeing climate change. What's needed is international recognition of the cause and effects of climate change, as well as concerted action – not just at governmental level, but from the public too.
At PURE 2016 we asked PUREists to make one small promise that can Change Worlds, and many pledged to take steps towards reducing climate change – such as using sustainable products and materials to help conserve our rainforests; or reduce greenhouse emissions by driving less and walking more. These small steps can be significant if taken on a large scale, especially considering that some may never walk on their own soil again.
---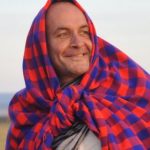 Previously a freelance journalist and editor of Africa Geographic, Anton Crone is CEO of Safarious, an online travel portal to the world's wild places. Anton not only focuses on wildlife, he also finds himself drawn to the people he meets on his travels. He looks at journalism as a way to connect people of differing creeds and cultures, and through his writing and photography he tries to uphold the importance of the communities that live side by side with wildlife.