4
-min. read
Our fear of sharks, no doubt amplified by the movie Jaws and over-sensationalised documentaries, could partly be the responsible for the lack of attention given to preserving the species over the past few decades. Ultimately it could be an ancient belief that is having the most profound effect on many shark species.
Legend has it that over a thousand years ago a Song dynasty emperor added shark fin to his soup to exemplify his power, inspiring subsequent Ming dynasty emperors to do the same. Soon others began consuming the dish to show their wealth and power due to the high price of fins. In tandem with this was the misguided belief that shark fin could enhance sexual performance and stave the problems of ageing.
Fast forward many hundreds of years and the price has steadily dropped, leading to unsustainable demand. Shark fin soup has become a popular dish at Chinese weddings and banquets and is found in many restaurants today. As many as 73 million sharks are killed each year for their fins, with some populations like the hammerhead declining by more than 79% according to a report by WildAid. Of the fourteen shark species most prevalent in the shark fin trade, all have experienced regional population declines ranging from 40-99%, and all are classified as Threatened or Near Threatened by the International Union for the Conservation of Nature (IUCN), says the report.
WildAid is at the forefront of campaigns to reduce consumption of shark fins, focusing on public awareness broadcasts in the media and working with governments to reduce consumption. In tandem with changing public attitudes, particularly among the younger generations, shark fin soup has been banned at state events, as well as the restaurants of 15 hotel chains, contributing to a reported 50-70% decrease in China's consumption.
A Save Our Seas Foundation article says that the number of major fishing regions regulating shark fisheries has risen significantly over the past decade, with many fisheries' management organisations prohibiting the capture of a some shark species "albeit mostly those that were already seriously depleted". While this looks positive, the report does not consider this a 'win' yet.
The article says there is concern about the lack of management in most target and bycatch shark fisheries, and that shark finning regulations have loopholes that can allow finning to continue. Added to this is the fact that Chinese populations outside of major city centres are still not aware why shark fin soup is such a serious environmental problem.
Jaws might be a fearsome creature, but he plays a vital role in ocean life. Being the apex predator, sharks keep populations of other marine life in proper proportion for their ecosystem. Predatory sharks prey on sick and weak members of their prey, also scavenging the sea floor to feed on dead carcasses. This prevents the spread of disease that could be devastating. By preying on the weak they also strengthen gene pools, meaning healthier species.  
Conversely, by keeping certain marine populations in balance, sharks relieve pressure on certain ecosystems. For example, sea grasses would be depleted by overgrazing from turtles – a favourite prey of tiger sharks – and other species that rely on sea grasses would suffer considerably if it were gone. An explosion in seal populations – prey of hammerhead and great white sharks – would spell doom for the species that they in turn feed on. Ultimately, the loss of this apex predator would result in the collapse of the entire marine structure.
Today the media is playing more of a role in reinforcing the importance of sharks, rather than scaring us. Marine-based travel organisations are making an effort to focus on marine conservation and the role that sharks play in maintaining the watery world we love to explore.
Sharks are beginning to gain their due respect, not for their power to frighten us or enhance our misguided sense of status, but for their power to keep the oceans in balance. Our imaginations have lead to this incredible creature's demise, but people are beginning to imagine and ocean without them – and that's a far more frightening scenario.
All images sourced from Flickr under the creative commons license.
---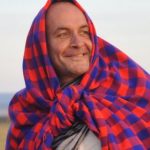 Previously a freelance journalist and editor of Africa Geographic, Anton Crone is CEO of Safarious, an online travel portal to the world's wild places. Anton not only focuses on wildlife, he also finds himself drawn to the people he meets on his travels. He looks at journalism as a way to connect people of differing creeds and cultures, and through his writing and photography he tries to uphold the importance of the communities that live side by side with wildlife.