5
-min. read
Humans love giving away money. We are naturally philanthropic creatures. Isn't that cheering to hear? And perhaps just a little surprising?
It's true. In Britain, we donated £9.7 billion to charities in 2016 – and if you look at high-net-worth individuals (HNWIs) alone, i.e., those who are likely to give away over £1 million per donation, they totalled £1.83 billion last year. And Americans? They're crazy about giving away money. In 2016, charities received $390 billion from US donors – a historic rise for the third year in a row.
These HNWIs may be generous at home, but what about the travel destinations and communities they encounter when they venture abroad? How can travel brands encourage their clients to do more to benefit the places – and empower the people – they visit?
Thankfully, some of the most successful travel players in Africa have been asking these questions for decades, and have found highly effective ways to embed philanthropy into their ethos– and business models – from the get-go…
---
Include a donation in your booking fee
You'd be surprised by how well high-net-worth consumers respond to donating at the point of purchase.
The Explorations Company, for example, has included philanthropy in its business model from its launch 28 years ago, currently charging a not-insubstantial £100 donation fee per person per booking, which is matched by the tour operator. That fee is then fed back into projects that benefit the host communities and environments in the places they operate in.
Founder of The Explorations Company Nicola Shepherd has also visited every single project they fund, so customers know their money is going to the right places.
---
Plan impactful philanthropic activities for your guests
Once your clients have arrived, you can go a step further: incentivise donations by taking them to visit a nearby philanthropic project first-hand.
Invest time into a project that will truly resonate with each and every one of your guests. "We find out what engages them – that's how we choose where they go," says Shepherd of The Exploration Company's conservation- and community-focused guest visits to philanthropic projects. "We find out what charities they donate to at home, and then think about the project that would most excite them."
Providing an entirely tailor-made itinerary not only provides a more enriching and authentic travel experience: it also brings in further donations, as clients are engaged and encouraged to see the difference their presence can make.
This model has proven highly popular with guests, according to Shepherd – in her experience, she has not encountered a single client who has ever said no to visiting a project. In fact, it has worked so well that The Explorations Company have just launched Philanthropy Plus, where a minimum of five per cent of the cost of a trip is funnelled into a cause that's particularly close to the client's heart. The 'Plus' is because it's completely up to them if they want to give more – and many do.
---
42 per cent of luxury consumers would pay more for a sustainable hotel. Learn how to create a sustainability strategy that today's travellers can't resist.
---
Back non-profit initiatives further afield
If you're already engaging your clients with philanthropic activities in your local area, why not also broaden their awareness by backing 'big picture' philanthropic initiatives around the globe?
Interestingly, Joss Kent – whose company andBeyond backs major cross-border conservation initiatives, including Rhinos Without Borders in partnership with Great Plains Conservation, says that people find it easier to engage remotely with these bigger concept issues. In other words, they'll donate even if they've not been there – perhaps because it's easier to understand the plight of the endangered rhino from afar than it is to appreciate the more nuanced issues of, say, education, empowerment or access to healthcare.
The reaction, he says, has been far greater than expected. "They really get it and they really engage. If they're exposed to collaring a cheetah in Phinda, say, or going into a clinic in Tanzania, the guest feedback is so much better."
And the by-product of that engagement? Donations for andBeyond have risen threefold. The experience is more enriching for guests, and the projects benefit from more donations. Win-win.
---
Build the basis for a lasting impact
The ultimate goal, though, is to weave the principles of philanthropy into your ethos. Long-term player andBeyond achieved this by launching their Africa Foundation as a core part of its business 26 years ago. They hold the view that conservation and development go hand in hand with profitable enterprise – a belief that the modern-day traveller is very likely agree with.
---
Indeed, the way modern luxury travellers approach their destination is changing. We love giving away money, and if we can be encouraged to do so while travelling by companies who– with an on-the-ground experience that enhances our trip – then so much the better.
As Chris Roche, from Wilderness Safaris, puts it: "If your indulgence can make a difference to improving the world, it is seen as a social currency and an emotional reward. Those who have the time and resources to obtain literally anything they want are now looking beyond 'luxury' – they are looking for experiences, exposure, and some sense that they have contributed to making things better."
---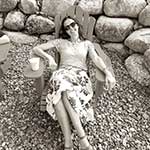 Francisca Kellett is one of the UK's most experienced travel writers and editors. She's the Travel Editor at Tatler magazine, and writes for various publications including the Financial Times, House & Garden, The Times and The Daily Telegraph. She loves nothing more than talking about sustainability, eco-travel and how travel can inspire philanthropy. @frankellett